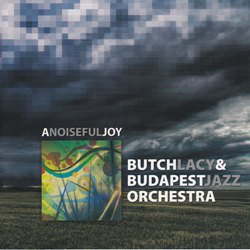 Edward Butch Lacy was born in 1947 in Richmond, Virginia. He has played the piano and the trumpet since the age of 6 and he formed his first jazz quartet at age of 12. The first concert of the quartet was broadcasted by the Richmond Radiostation.
He continued his studies as a pianist and composer in Washington, San Diego and New York. He composed music for TV and radio which won several awards. As a freelance composer wrote soundtracks to documentary films. Awarded several prizes, including an Emmy Award for the music to " The Whales that Wouldn`t Die". As a pianist he played with Art Pepper,Frank Rosolino, Charles Mc Pherson, Dee Dee Bridgewater, Toots Thielmann, Lee Konitz, Chet Baker, Thad Jones or Ernie Wilkins amongst others. In the 80's his trio played for Sarah Vaughan and worked as a leader the orchestra of Count Basie and Henry Mancini as well. Lacy has been living in Denmark since 1982 working as the leader, composer and arranger for the Danish Radio Big Band and the Entertainment Orchestra.Besides the D.R. Big Band he composed music for ballet and theatre. As a teacher he published pedagogical issues.

Butch Lacy and the Budapest Jazz Orchestra first met in 2000 on an occasion of a master class where, as a final act of the course the band performed Butch Lacy's new composition learned and rehearsed in one week in a 3-piece mini concert series throughout Hungary. Butch Lacy's compositions, arrangements, musical instructions and his intellectuality has a great influence on the band. Since then Mr Lacy and Budapest Jazz Orchestra have been in intensive contact with regular consultations which inspired the orchestra and the composer to continue this cooperation and agreed to create a new album. The first tunes of Lacy's music were performed at the Zsámbék Jazz Open in July of 2010 and by the end of the year the whole album was completed. During the creating period Mr Lacy kept daily contact with the members and was present at the recording sessions as well. The new album resulted in an exceedingly entertaining product of high standard and unique from all prospects. As the title reflects: A Noiseful Joy!
| | |
| --- | --- |
| 1. | An Orcra's Glissandos (9:05) |
| 2. | The Meeting Place (11:31) |
| 3. | Here's Zoli (11:04) |
| 4. | A Noiseful Joy (8:14) |
| 5. | Butterflies in Slow Motion (9:35) |
| 6. | Agishigadah! (11:09) |