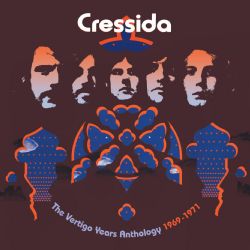 2 CD ANTHOLOGY BY THE LEGENDARY PROGRESSIVE ROCK GROUP CRESSIDA
24 TRACKS REMASTERED FROM THE ORIGINAL TAPES
FEATURING EVERY TRACK FROM THE BAND'S TWO ALBUMS RECORDED FOR THE LEGENDARY VERTIGO LABEL BETWEEN 1970 & 1971
WITH FIVE PREVIOUSLY UNRELEASED TRACKS – INCLUDING TWO FROM A 1970 BBC SESSION, TWO UNRELEASED DEMOS AND AN UNRELEASED SINGLE TRACK
BOOKLET WITH FULLY RESTORED ARTWORK, RARE PHOTOGRAPHS & ESSAY

Esoteric Recordings are pleased to announce a 2CD ANTHOLOGY by the legendary Progressive Rock group CRESSIDA. One of the finest groups to sign to the legendary VERTIGO label in 1969, CRESSIDA's unique Progressive Rock style earned them a loyal fan base in the early 1970s, with their legend growing over the ensuing decades and their followers growing, with notable aficionados including MICHEAL AKERFELDT of the band OPETH. The roots of Cressida were sown in March 1968, when guitarist John Heyworth answered an advertisement in Melody Maker, and later travelled to London to join The Dominators. With vocalist Angus Cullen he settled down to some serious writing, eventually welcoming bassist Kevin McCarthy and drummer Iain Clark to the fold and now calling themselves Charge. In 1969, shortly after returning from a German tour, the band's organist Lol Coker decided to leave, and moved back to Liverpool to marry his Swiss girlfriend and take over his father's business. He had stayed just long enough to play on the band's first demo, which got them a recording contract with Vertigo Records. Peter Jennings then joined. At this point the band settled on the name Cressida. Their first gigs as Cressida were in Germany, including the Star-Club in Hamburg sharing the bill with Colosseum and East Of Eden, in the Autumn of 1969.
The band's self-titled debut album was recorded at Wessex Studios with Ossie Byrne producing, and was one of the earliest releases on Vertigo. Cressida went through a difficult phase when Heyworth was forced to leave in early 1970. He was replaced by John Culley. The new line-up recorded Cressida's second LP, Asylum, later in 1970 (again with Byrne producing, and with orchestral arrangements by Graeme Hall), but it was released pos-thumously in 1971, the band having broken up in September 1970. Noted jazz flautist Harold McNair guested on the song "Lisa" from the album. Heyworth sadly died in January 2010, but in 2011, three of the four surviving original members of the band, Angus Cullen, Iain Clark, and Kevin McCarthy got together again with Peter Jennings. This anthology has been compiled by the group themselves and is a fine tribute to an inspiring band and has been newly re-mastered from the original master tapes, and features a booklet with new essay.
CD1
1.
One of a Group
2.
Winter is Coming Again
3.
Lights In My Mind
4.
Home is Where I Long to Be
5.
Time for Bed
6.
Depression
7.
Down Down
8.
To Play Your Little Game
9.
Cressida
10.
The Only Earthman in Town
11.
Tomorrow is a Whole New Day
12.
Spring '69
13.
Lights in My Mind
14.
Mental State
CD2
1.
Survivor
2.
Reprieved
3.
Summer Weekend of a Lifetime
4.
Lisa
5.
Asylum
6.
Goodbye Post Office Tower Goodbye
7.
Let Them Come When They Will
8.
Munich - taken from the album Aslyum
9.
Situation - unreleased single
10.
Depression
11.
Winter is Coming Again - BBC Radio