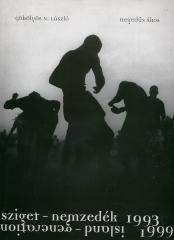 It started as a "one-week-stand" for hungarian youth, but during the last 7 years the Student-Island became the biggest open-air festival of Europe. Nowadays around a quarter million of people are living at the Student-Island at that summerweek, in august. From every corner of the world people are coming to join the music, theatre, dance, the communal programms and the "tent-life". They get and give lessons about tolerance and love, far away from the daily problems, making everlasting friends.
Ákos Hegedűs photoreporter and László N. Göbölyös author - publicist have been working together for 7 years but not only because of their similar job-interest but also for the fun. They took part at the Festival every year. Their meetings, adventures and experiences are published in this two-language album, illustrated with beautiful photos, portraits and the ( since yet not readable) interviews. ( for example with: Patti Smith, David Bowie, Ian Anderson, Slash, Therapy….)
The authors dedicate this book to everybody who already know what "the Island" means and also to those who believe in the "holy trinity" of "freedom-music-love"