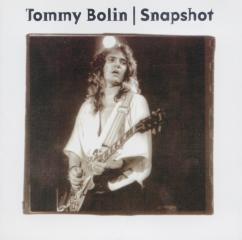 Tommy Bolin might be best known to UK fans as the guitarist who replaced Ritchie Blackmore in Deep Purple, in the spring of 1975. Prior to this, Bolin was highly regarded for his work in Zephyr and The James Gang. Born in Sioux City, Iowa in August 1951 Tommy was exposed to the early rock 'n' roll icons such as Elvis but started drumming before switching to guitar. About the same time as his stint with Zephyr he often gigged with such jazz-rock luminaries as Jan Hammer and Billy Cobham, this led to his involvement on Cobham's acclaimed album "Spectrum" in 1973.
On Joe Walsh's recommendation, Bolin replaced Dominic Troiano in The James Gang and contributed his songwriting and guitar talents to their album 'Bang' released in October 1973. This was followed by 'Miami', released in 1974. After contributing to jazz drummer's Alphonse Mouzon's album 'Mind Transplant', Bolin was signed to Atlantic and started work on his first solo album. In the early months of 1975 he was "headhunted" to join Deep Purple, replacing Blackmore who had already gone on record as an admirer of Bolin's jazzy style.
Both Bolin's solo album, 'Teaser' and his Deep Purple album 'Come Taste The Band' were released within a few weeks of each other (in November/December 1975). Both albums highlighted Bolin's tremendously eclectic range, from jazz-rock fusion to soulful ballads. There followed a world-wide tour with Purple and work on the follow-up solo album, 'Private Eyes' released in September 1976. His stint with Purple had lasted until July 1976 but was coloured by his drug dependency. He carried on gigging, promoting the new solo album, but tragically died from a drug overdose after a concert in Miami on 3 December.
This Angel Air release brings together studio outtakes and home demos from all periods of Bolin's career and gives listeners a fascinating glimpse into the creative process of Tommy Bolin's music. There are jazzy-rock workouts and sensitive acoustic ballads.
| | |
| --- | --- |
| 1. | Savannah Woman |
| 2. | Standing in the Rain |
| 3. | Cat's Cradle |
| 4. | Oh Carol |
| 5. | Gotta Dance |
| 6. | Spanish Lover |
| 7. | Cucumber Jam |
| 8. | The Devil is Singing Our Song |
| 9. | Hoeward Strut |
| 10. | Summer Breezes |